Welcome to the Me Being Crafty stop for the Sew Mama Sew giveaway day! I know you have a lot of places to stop by, so let's get to it!
Here at Me Being Crafty I have a podcast published twice a week (every Tuesday and Thursday) and you can subscribe via iTunes, Stitcher, or your favorite podcast app. You can also listen directly here on the website.
I've interviewed awesome people like Julie Dueck of The Intrepid Thread, Anne Sullivan of Play Crafts and the Quilt Design a Day group on facebook, Heather Mann of Dollar Store Crafts, Rachael Gander of Imagine Gnats, Andrea Rennick of Quilti, Rebecca Roach, Andrea House of Tickled Peach, Alorha Baga, Alison Dutton of Alison Sews, and Tracey Wirth of Swell Sewing. I have a new show tomorrow, my guest is Sandi Sawa Hazlewood of the Crafty Planner! She and I have a really great conversation about the process of being creative so I hope you tune in!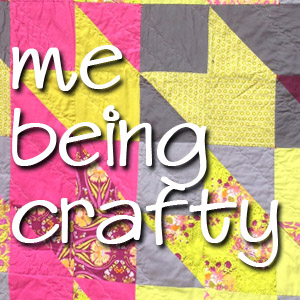 I'd love to have you as a guest on the show! If you have something creative to share, please send me an email or leave me a message! I am interviewing a wide range of creative people – quilters, sewists, shop owners, Native American bead artists, musicians, and I'd love to include you in that list.
I also post Crafty Quickie's – a quick post that tells you about something you can't miss out on – a book to read, a quilt tutorial, something you have to see. Those can all be found here: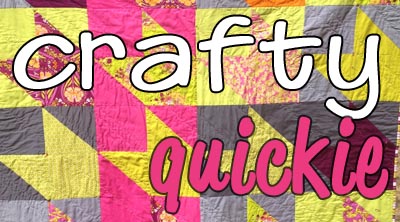 Me Being Crafty the website and the podcast are both about being a creative person and how that adds so much to my life, and to your life. I've been a creative person forever, I learned how to sew and quilt from my Mom and Grandma, and how to do beadwork from my Grandma. Like many Mom's out there, I created and crafted with my kids from the time they were old enough to do so. I have loved the process of teaching them new things and I really enjoy watching them be artists without prompting from me.
I'd love to have you as a listener of the Me Being Crafty podcast! And now, for the giveaway.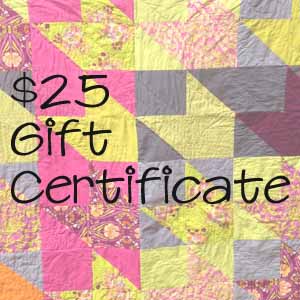 I'm giving away a $25 gift certificate to my friend Rachael's shop – Imagine Gnats!
To enter the giveaway:
1. Leave me a comment answering this: Who would you like to hear me interview?
For up to three extra entries:
Like the Me Being Crafty facebook page
Leave me a rating and review in iTunes – click the itunes link, the Me Being Crafty podcast will open in iTunes on your computer and click "ratings and reviews"
Leave Me A Message with your comments about an interview (and I might even include it in a future episode!)
Leave me a separate email for each extra entry! This is open to international shipping, but this is just a gift certificate for the shop, you will have to cover the shipping charges, unless what your purchase plus shipping falls at $25 or less. Don't forget to leave your email address so I can contact you! Rachael has a great selection of fabrics and patterns available, you don't want to miss out!