After a quick scroll on instagram, I discovered that I started sewing these hexagons waaaaay back when we lived in San Diego. By my calculations (and thanks to instagram saying how many weeks ago something was posted), I first started sewing them two years ago. Two years! Ah well, at least now they have a purpose.
I pulled out all the hexagons – made with Lucy's Crab Shack and coordinating solids – and made larger panels. These have evolved in their plans – I started the hexies with no pattern in mind, then I thought placemats would look nice when we were living in San Diego and again farther north in Monterey (the fabric does have a beachy/live by the water feeling). After a bit, and nothing coming of the hexagons, I thought mug rugs would look good, I could give them as gifts! But they stayed sewn together and just waited for what they were to become.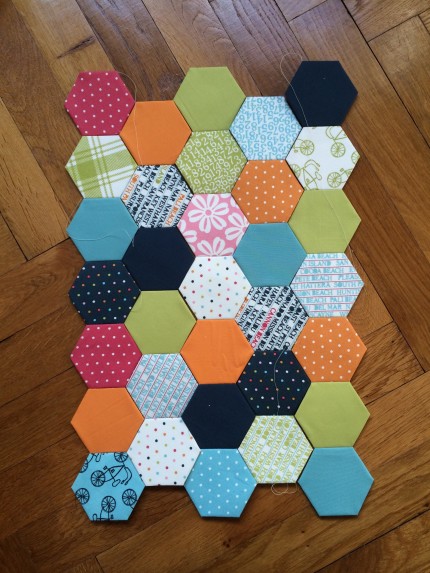 And the other day I stumbled upon this extra large box bag post! Inspiration! I turned what would have been six placemats (or mug rugs) (or anything else really) and turned them into the beginnings of three box bags.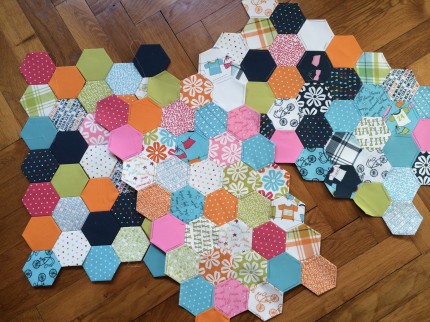 These are large panels so they could also be oversized tote bags. I decided to make them for Christmas gifts for JW's teachers. I don't want to scramble in December because I forgot, and I like to take advantage of inspiration hitting at the right time. I have three panels, two of the same size and one just a little smaller, and I will probably have to add a little border. I don't have big enough zippers right now, so I'll have to also figure the final size after I buy zippers.
Linking up with WIP Wednesday.