This week I was not nearly as productive as I usually am since being sick. Today I'm finally feeling like I have more energy, now hopefully my cough will go away quickly! Let's get right to the good stuff! First up – a sale!
Craftsy is having a flash sale for two days only to celebrate 5 million members! If you are not a member already, head over there and check out the classes. There are also a lot that they offer for free – free quilting patterns, free sewing patterns, and free mini classes to get you started. I love Craftsy, I have purchased several classes and one of the best things is that you always have access to the classes, meaning you pay once and you will get to watch it over and over again.
I mentioned Sister Diane's new English Paper Piecing shop last week, and this week she has a
video of how to baste hexies
up. This is if you are using squares instead of a hexie shaped piece of fabric. This is the same technique I used for my
long time coming hexies
because that fabric came from a charm pack. It's so much faster to cut squares instead of hexagon shapes. And the hexagons that I used for that project called for 2.5″ squares so I was able to get four pieces from each five inch charm square. I love being able to share a video so I hope this gives you a tip or two!
[youtube]https://youtu.be/YPlow-L4Atk[/youtube]
Do you do bento lunches? Do you even know what that means? I admit when I first hear "bento" I had to google to see what it was! My kids are not allowed to take lunches to school here, but they were allowed when we lived in Washington and California. For a time I really tried to make cute lunches, especially because we were firmly in the rut of the same two or three sandwiches and the same three or four sides. The kids never complained though, and I don't think they ever traded anyone either. But Wendy over at
Wendolonia
makes amazingly cool bento lunches for her kids, you just have to see. I did get some of the stuff you use for bentos – something we still use today are the lunchboxes and the
egg molds
. Egg molds are just too fun, we have the rabbit, bear, fish, and car.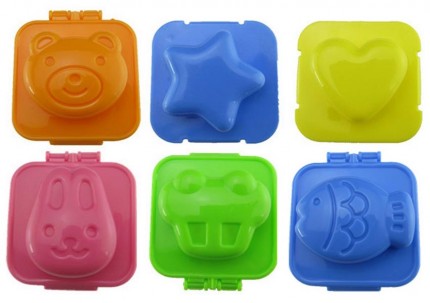 Here's to a healthy week! Have you found something you have to share? Oh, and the links will all open in new windows so you don't lose what you are looking at here.
(Disclosure: The links above may be affiliate links, this means I may profit when you take action on my recommendations!)