This week has been awesome! I launched the Me Being Crafty podcast: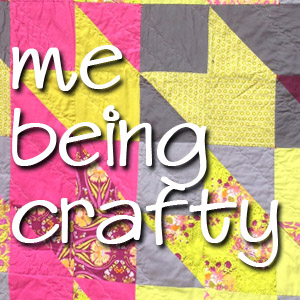 Check out episode zero An Introduction to the Me Being Crafty podcast and episode one Being Creative with Your Kids. I'd love to hear your thoughts, let me know how being creative has added to your life, and hey, I'd love to have you on the podcast! Email me tsoniki at gmail dot com and let me know you are interested in being a guest.
One thing that I really miss is sewing with others, in the same room as them. I don't know anyone here that makes quilts, I'm actually not sure that I know someone that sews regularly. I would love to have someone to sew with! I know I am lucky to be able to sew every day, or at least several times a week. I was reminded of how much fun that can be when I saw pictures of the Fort Leavenworth Quilt Posse! I'm going to have to put more effort into finding a sewing buddy here.
Years ago I sold items at craft fairs, and I remember always being so nervous! I only sold at a few shows and I only sold cards that I was reselling – meaning I was a sales rep for the company, kind of like Jamberry or Pampered Chef, but this company sold cards and stationary. My tables were small and I always felt like I had to accommodate the customer. The cards I sold were in sets of four or eight, but I remember one woman wanted to buy just one from several of the sets. I ultimately let her and afterward I mixed up the cards. A lot of people have said I would do great in sales because I am so passionate about the things that I like. And you know, I can talk about the things that I love and how whatever that thing is would be great for you, but for some reason I just didn't feel comfortable standing at a craft show. Maybe I just needed a different venue, more practice, more shows. If you are in the beginning of the craft and art fair season, check out 5 Things I Learned from My First Craft Fair for some good tips.
How about ending with a tutorial for a cross stitch quilt block! This is over at Pile O'Fabric and Alyssa's tutorial has several sizes for you to pick from. This is a great quilt for scraps, and I have a lot. It's time to put my kids to work organizing and cutting fabric.
How was your week?