Podcast: Play in new window | Download
Subscribe To The Me Being Crafty Podcast! RSS
Head over to iTunes and subscribe to Me Being Crafty so you don't miss an episode! You can also subscribe on stitcher.
Welcome to episode 025 of the Me Being Crafty podcast, where we explore creativity in your life.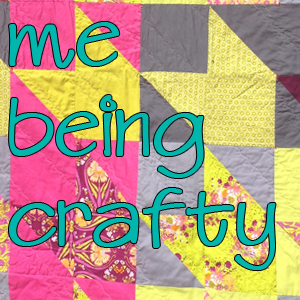 In this episode I talk to Elizabeth Dackson of Don't Call Me Betsy about her choice to start sewing (and what a great choice she made!) and her journey to becoming a quilt designer, teacher and author. We talk a lot about the design process for quilts – the length of time it takes her to design a quilt, finding pattern testers, and maybe most importantly: knowing your design process. We all design differently and we also need to know which computer programs we want to use to complete our files.
Elizabeth co-taught the paper piecing class that I took at the Sewing Summit (along with Lee Heinrich) and definitely made paper piecing an easy thing to learn to do. I've made several paper pieced projects since that class so yay me! Thanks again for being on the show Elizabeth!
I love the story that Elizabeth shares when she talks about deciding to find a hobby. I think this is a common thing for young people and also for new parents. We want something to do, something extra to stay busy or express ourselves creatively. I am glad she found sewing because I love it so much. I think everyone should learn to sew – at least the basics! Learning to sew, buying a sewing machine that day she went looking for a hobby, that changed her creative life.
Elizabeth has a lot of really great quilt patterns available in the Don't Call Me Betsy pattern shop and her book, Becoming a Confident Quilter, came out in 2013. She is also a Craftsy instructor with two classes  Start Free-Motion Quilting and Start Foundation Paper Piecing. The foundation paper piecing class was just released a couple of months ago so definitely check that out if you are looking to learn how to do this. I admit it – I bought the paper piecing class just because it also comes with seven block patterns. If you take away the class, that is a really inexpensive price to pay for those patterns.
Have you tried paper piecing or made one of Elizabeth's quilts? Do you have a favorite that she designed? I love the Lucky Stars BOM and encourage you to stop by her shop today.
Where you can find Elizabeth – Elizabeth on instagram – Don't Call Me Betsy on facebook – Elizabeth on flickr – Becoming a Confident Quilter on amazon
Listen to episode 025 and let me know about a pattern that you designed!
Leave me a comment and let me know how you were creative today. Me, I'm working on my bullet journal to be sure I didn't forget anything. I have a lot going on with the podcast and the kids and of course my own sewing! I also have a baby quilt to finish.