Do you remember that feeling? That feeling of anticipation, waiting for the mail to arrive, to see a new magazine or a letter from a penpal? What surprise would show up when you were waiting?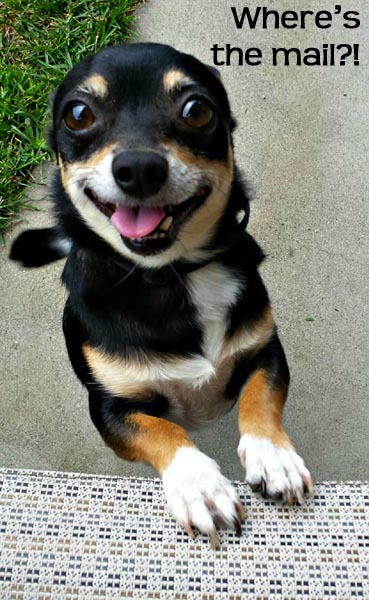 One of my favorite things is getting mail. When I was a little girl, growing up next door to my Grandma, my Uncle picked up the mail for everyone in the family. And I mean everyone – my Aunt's and Uncle's, my Grandma, my Mom.There was a spot for everyone's mail around where Grandma sat – Mom's mail behind the napkins on the table, my Aunt's mail by the microwave. I loved getting the mail for my Mom, I don't know why!
I still love getting mail. I have signed up for various subscription boxes over the years. I was a loyal member of an early craft/creative box until they stopped shipping boxes, I signed up for the birch box for a short while, and I can't even tell you how many fabric clubs I've signed up for over the years. And really, a Block of the Month (BOM) is another form of a subscription, granted it is one that has an end date.
Are you thinking about creating that same feeling for your customers? That is fantastic and it can be a great addition to your business. But you can run into some big mistakes if you don't plan and prepare and you can potentially lose your loyal customers.
Be sure you avoid these five mistakes when you are starting your subscription service: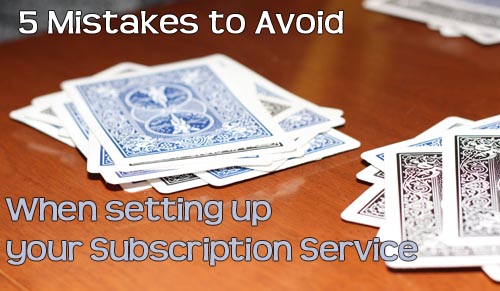 Mistake #1: Promising More Value than You Can Deliver
The whole point of starting a subscription site is to charge buyers a small amount each month and give them something valuable in return. But don't offer more than you can possibly give.
For example, maybe you're an embroidery designer and you want to provide new designs each month to your subscribers. Don't throw in a extra designs that you charge for separately. Adding in extra value can actually have the opposite effect. Buyers may suspect that you're compensating for a poor subscription service by adding something so valuable to the mix.
Instead, keep it simple and only offer what you can reasonably deliver each month.
Mistake #2: Not Having a Clear Plan for Regular Content
You don't have to have all of your embroidery designs for the year in advance, but you do need a plan for how and when you're going to ship your monthly resources. If you don't have a plan in place, you're more likely to become disorganized and miss your own deadlines.
Your plan doesn't have to be complex but do write down the steps you need to take each month. For example, maybe you will want to have each month have a specific theme. You should write down every step you take each month from brainstorming the themes you are interested in to drafting designs. If you have someone helping you put the patterns into the PDF, using Illustrator or another program, you'll want to make a note of their name and contact information.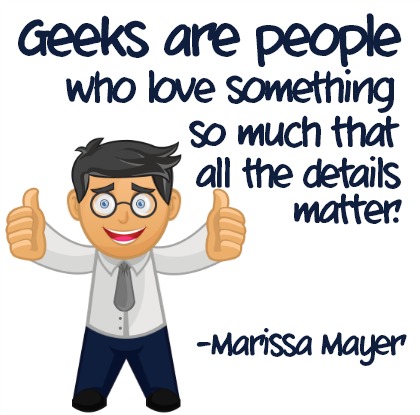 Mistake #3: Failing to Provide a 'Start Here' Page
When it comes to paying for a subscription, most buyers make the purchase then attempt to log into their account. If they can't find the resources they bought, they may panic or worry they've been taken advantage of. This is why having a start page in place can be helpful. On this start page, tell new buyers exactly how they can access this month's resources.
Mistake #4: Not Preparing for Technical Issues
Regardless of how well an online business is managed, there are always technical glitches. Maybe half of your subscribers can't login to their accounts. Maybe your download link doesn't work in a certain browser. These are technical issues that might be small, but when you have a large number of subscribers, you may find yourself spending more time on technical support than on promoting your subscription site.
This is why you should have a dedicated support team in place. Hiring a virtual assistant can help you streamline your technical support so you can focus on other tasks that boost your income.
Mistake #5: Failing to Offer an Affiliate Program
The best advertising method is still word of mouth. Most popular affiliate programs offer a percentage of the sale, usually around fifty percent of the purchase price. That seems like a huge percentage I know. But despite the profit cut, it's still a good deal for subscription site owners. This is because you only pay your affiliates for visitors that actually converted into buyers.
Affiliate programs are not common in the craft and creative world. Let's change that. Let's support each other in building our businesses and recognize the power of affiliate programs. I will be sharing more about affiliate programs and affiliate marketing! I am so excited to talk about this with you!
Creating a subscription service is fun and exciting, but it also takes a lot of work and preparation. Remember to keep the five points above in mind as you work to launch your own subscription site successfully. For the month of February, you can save $30 on the course by using the code SAVE30BUCKS! Let me know what your idea is, I'd love to support you!
This course is one that Kelly of SoloMasterminds created, click here to read my story and how I met Kelly.