It's easy to take books in the primary language you speak for granted when you live in a place where you can shop easily. While we lived in France, it was easy to order online and anticipate getting the mail. We only picked up our mail every six weeks to two months so patience was definitely a treasured thing. The mail comes to us in two or three weeks here, which is great because things get here faster, but also not great because since things get here faster it's tempting to order. 🙂
I appreciate the Kindle for reading what I call chick lit (is it still called that?), beach reads, or stuff I just don't want to own. For everything else, I'm a book buyer.
One of my recent purchases was the Year of Yes, by favorite character killer Shonda Rhimes. Of course, reports say she does not do actor drama so people leaving the shows she created is because they have some drama. I'm on board with that, even if McDreamy was killed and his funeral not attended by his family and Meredith turned off the machine after moments, also without his family there.
Anyway – 20 pages into the book and I love it. I'm easy to love books though, so let's get into this.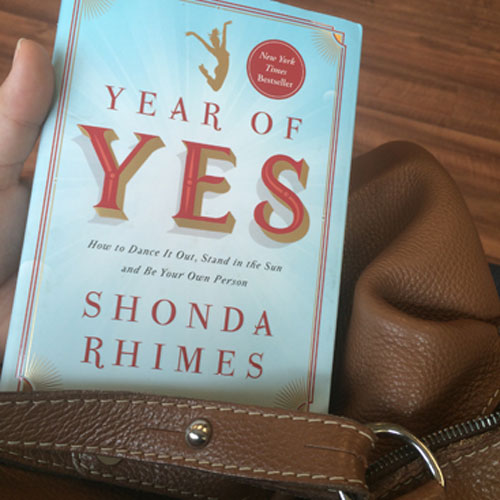 My word of/for the year for 2016 is YES.
Yes, I will make a quilt on commission.
Yes, I can sew that seam for you fashion designer friend.
Yes, I will make another quilt on commission.
Another quilt? Yes.
Yes fashion designer friend, I will meet your fashion designer friend.
Make something for you friend of a friend? Yes.
It's almost the end of March, I really want to recap January because that was my "finish projects or get rid of them" month, but overall my year is YES and wow – it's kind of awesome.
I am saying yes even though I am freaking out on the inside. Even though I am going to meetings completely unprepared, I get through it. Because even though I really want to do all of this awesome stuff – it's scary. There are a couple of things that I am working on for other people outside of sewing that are making me really freak out and be scared, but I am going through with it anyway.
It's Shonda Rhimes playing in the pantry, enjoying creativity and imagination alone, and loving it. Because I love to sew. I do. I sew every day – well, let me rephrase that – I am creative every single day. I am designing or quilting or sewing a binding or beading or organizing beads for a project. I love being creative and I feel less energy when I don't have a chance to be who I am when I can create. I love writing and why wouldn't a magazine submission be on my list. I want to podcast again so why not get back to doing something I really enjoy.
And it really is a powerful feeling when you say yes to the scary stuff. I hope you have someone who can push you to say yes.